Custom Digitally Printed Flags
What is a Digitally Printed Flag?
Get your business noticed with Digitally Printed Flags! Our state-of-the-art digital printing process is perfect for small print runs and creates stunning, photographic-quality flags for all your advertising and promotional needs. Plus, we have no minimum order requirements – we'll print as few as one!
With Flagco, you can trust that your custom flags will be printed with the highest level of quality and attention to detail. Choose us for all your digital printing needs and get the attention your business deserves!
Get a quote for Custom Digitally Printed Flags
Fill out the form below with details about your custom flag and submit high-quality, ready for print artwork to receive a quote. Please provide additional flag details in the instructions area, such as flag colors (if you know it), number of flags, and any other critical information.
What type of files do you accept?
File types accepted include .pdf, .svg, .ai, .indd, .eps, .tif, and .psd. Vector files, files comprised of outlines not pixels, are required for all submitted artwork.
Vector artwork is really important when creating custom flags because it allows us to create high-quality images that can be scaled to any size without losing clarity or becoming pixelated. When we print a flag, we want it to look sharp and professional, no matter how big or small it is. If we don't have a vector file to work with, we might have to use a raster image, which can sometimes look blurry or distorted when printed at a larger size.
In other words, vector artwork ensures that your custom flag will look crisp and clear, whether it's hanging outside your business or being used at a trade show. That's why we recommend that customers provide us with vector artwork whenever possible, so we can create a flag that looks great and represents your brand in the best possible way.
We cannot accept screenshots.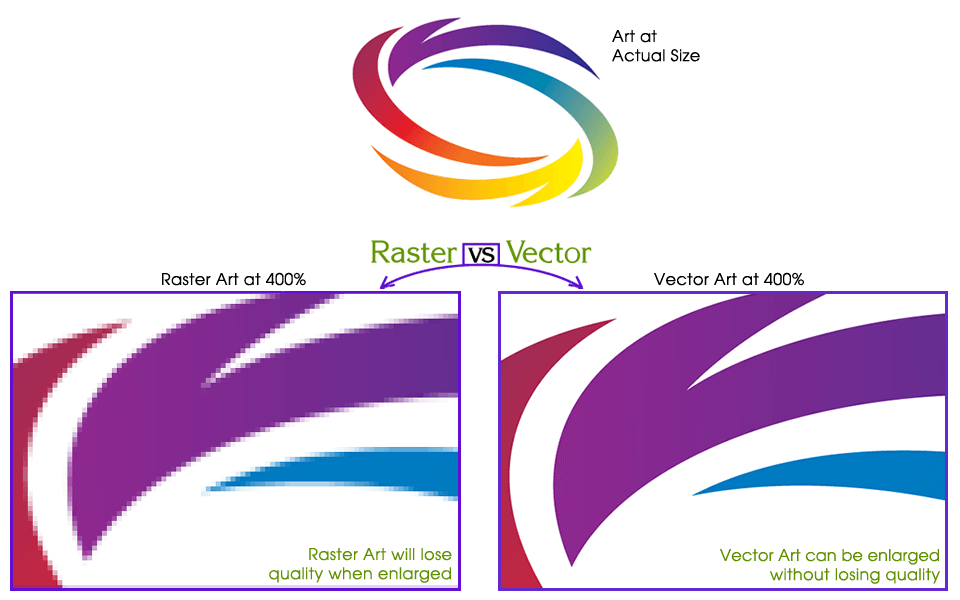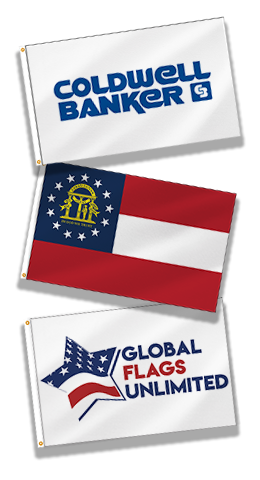 Are there dimension requirements?
Yes, all artwork must be a minimum of 600dpi. The required dimensions will depend on the product you are ordering. The image dimensions need to be based on the final size of the flag that you are ordering.
What is Appliqué?
Appliqué is a technique in which words, shapes, or logos are transformed into "patches" that are sewn on the flag, rather than printed. Appliqué is much like embroidery, only much more affordable, and adds a professional 3D look to your flag. Flags can be completely done using appliqué on 200 denier nylon, or you may choose to have certain aspects of your flag done in appliqué.
Did you know?
The word "appliqué" is derived from the French verb "appliquer," meaning "to put on." It refers to a textile craft in which one piece of fabric is sewn over another for a decorative effect. Appliqué was first discovered when clothes ripped and needed fixing; requiring patches of fabric to be sewn over the top of the rip, otherwise known as patchwork. Appliqué is found in many forms of folk art, ranging from the purely decorative to the symbolic.
Questions about Appliqué ?
Fill out the form below with some basic details about your custom flag and any questions or comments you may have. Our staff will get in touch with you regarding your inquiry.
CUSTOM FLAG SERVICES FORM